Regular price
Sale price
$19.99
Unit price
per
Sale
Sold out
• Supports healthy skin, eyes, joints, and cardiovascular health
• Provides powerful antioxidant support to protect against free radicals and oxidative stress
• Made with high-quality, non-GMO, and gluten-free ingredients
Health Thru Nutrition Astaxanthin 12mg is a natural dietary supplement that contains AstaZine®, a potent form of astaxanthin derived from microalgae. Grown in pristine Himalayan water, this supplement provides various health benefits and has become increasingly popular in recent years. It is specially designed to support overall health and well-being, promoting immune function, joint health, and cardiovascular health, as well as providing superior antioxidant protection.
How to Use?

Directions: Adults: Take one (1) softgel daily as a dietary supplement or as recommended by your healthcare professional.
More Info

Astaxanthin is a powerful antioxidant and anti-inflammatory agent, shown in numerous clinical studies to reduce inflammation markers in the body, such as C-reactive protein (CRP).Our liver produces CRP in response to inflammation, and it can be measured with a simple blood test; a CRP level above 350mg/L is indicative of a serious underlying condition resulting in systemic inflammation, such as rheumatoid arthritis, carpal tunnel, lupus, Crohn's disease, infection, or other injury. An elevated CRP can also be an indication of heart disease.

Lowering your CRP level may not only prevent muscle and joint damage from inflammation, thus decreasing the pain associated with arthritic conditions, but can also help support a healthy cardiovascular system, promote improved blood flow, lower lipid levels and reduce the risk of developing atherosclerosis.

Thankfully, Astaxanthin can help our bodies combat the cursers of inflammation. One clinical trial showed a 20% reduction in CRP levels among study subjects who took just 4mg of natural astaxanthin daily compared to the placebo group!

Health Thru Nutrition's astaxanthin is triple strength, offering 12mg Astazine® astaxanthin per capsule! Astazine® is the premier organic astaxanthin, sustainably cultivated from the micro-algae Haematococcus pluvialisis, utilizing the sun's energy along with pristine Himalayan water. Morally manufactured with the highest quality and standards in mind, Astazine® is also clinically validated by independent research to promote a normal inflammatory response, healthy cardiovascular system, and healthy immune function, while supporting eye, brain and joint health.

Manufactured in a cGMP facility in the USA, HTN's Astaxanthin is 100% pure Astazine®, Organic and Hypoallergenic.
Supplement Facts

Other Ingredients:

Kosher beef gelatin, extra virgin organic olive oil, vegetable glycerin, sunflower lecithin, purified water, D-alpha tocopherol, refined sunflower oil and other tocopherols.
Shipping

Free Standard Shipping Everyday on Orders over $59!
View full details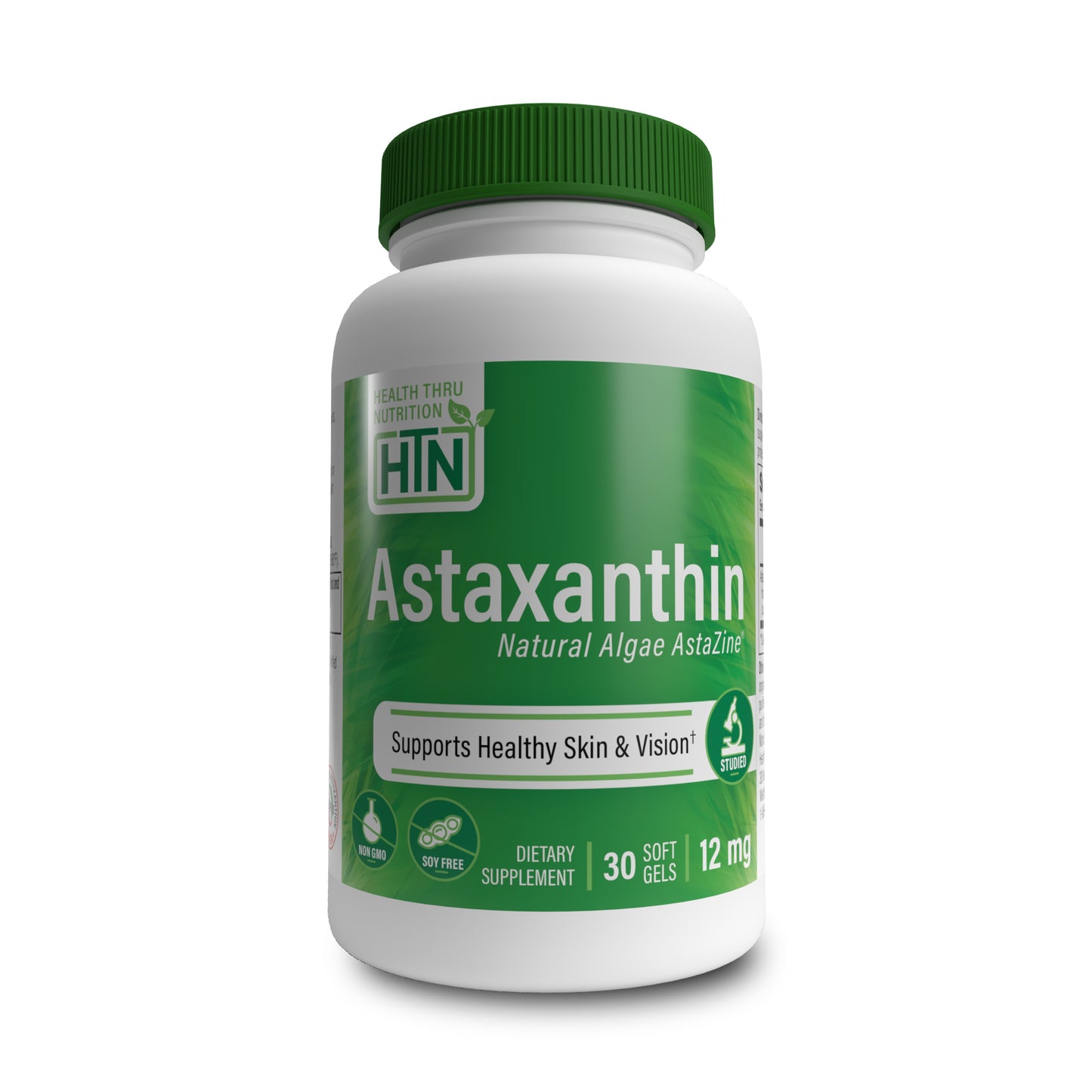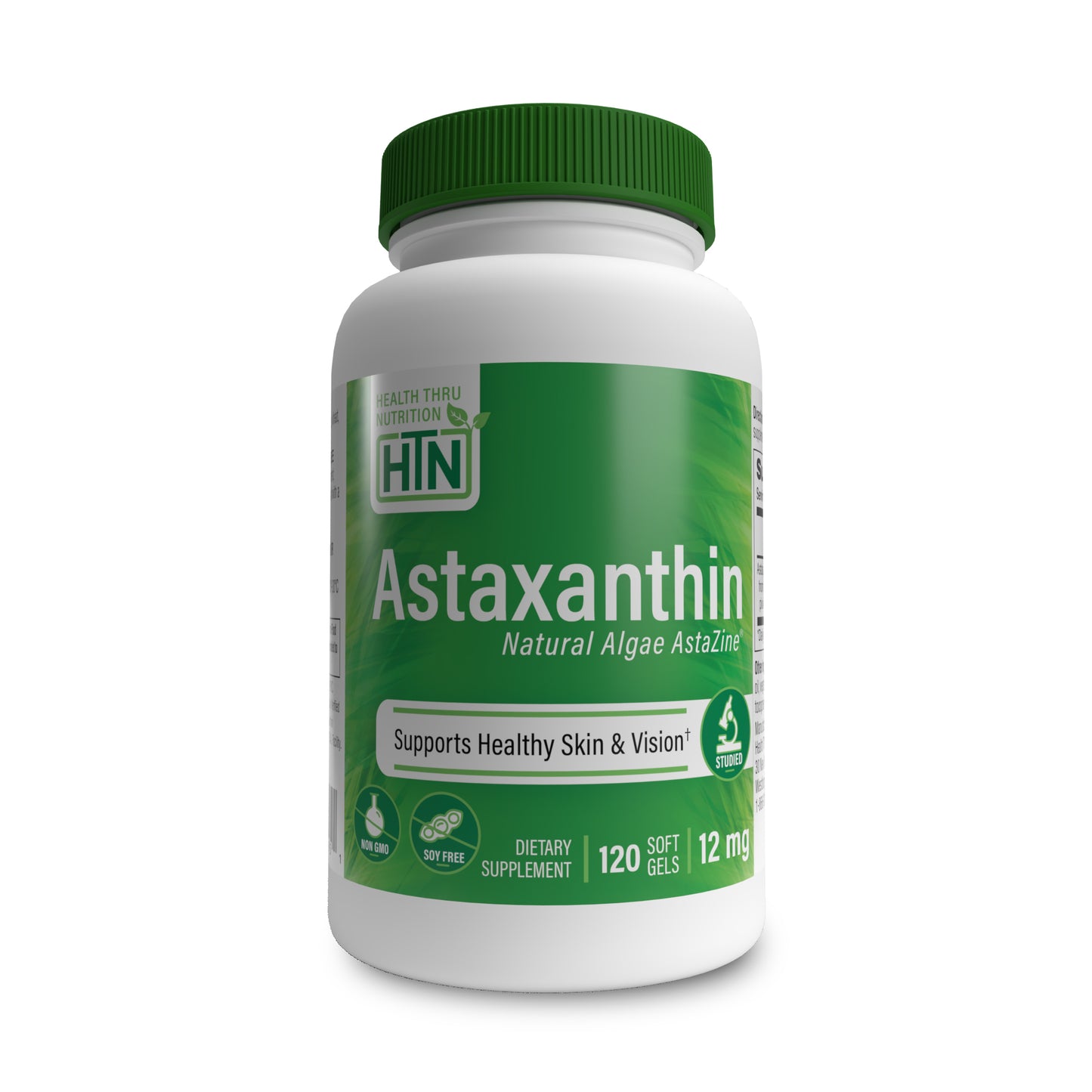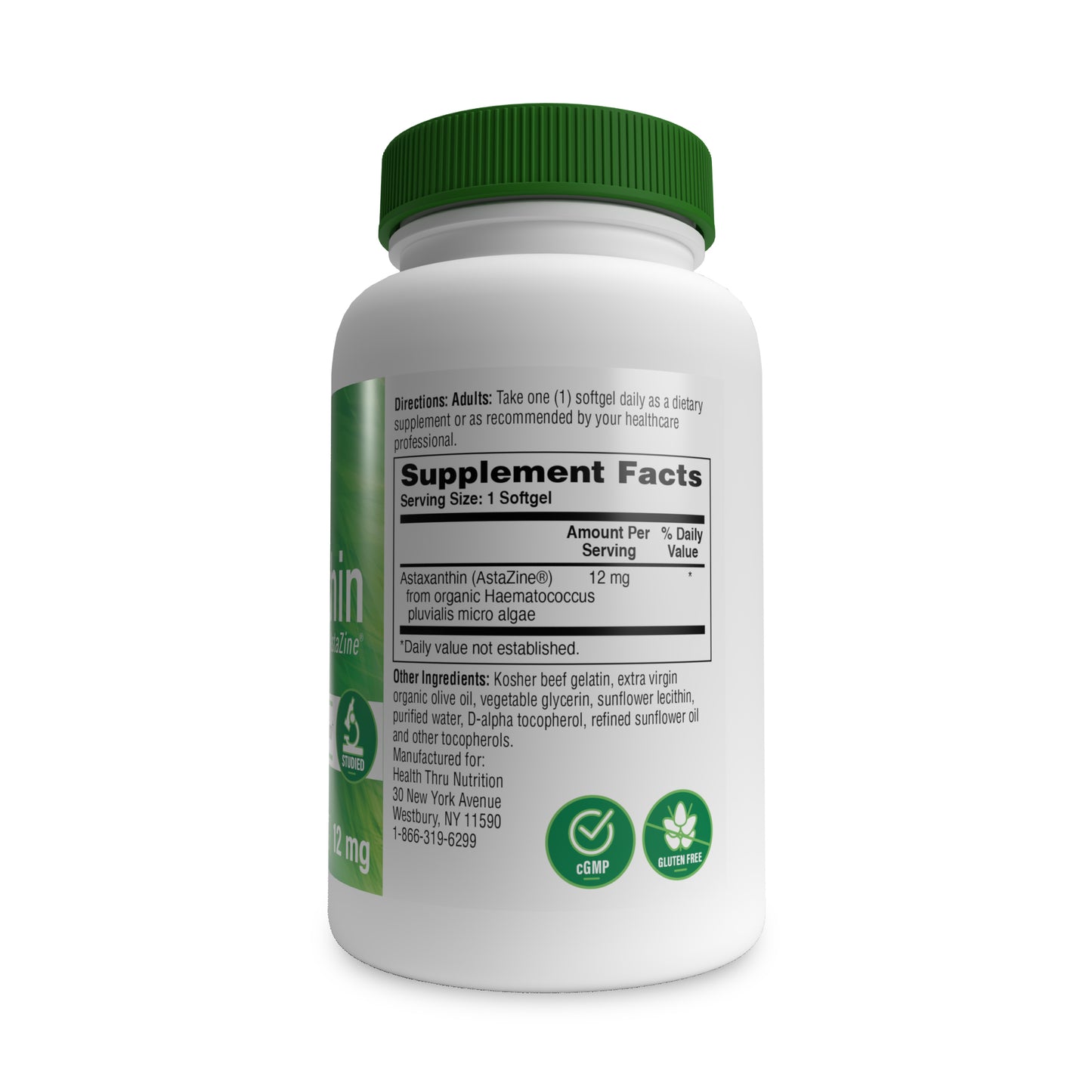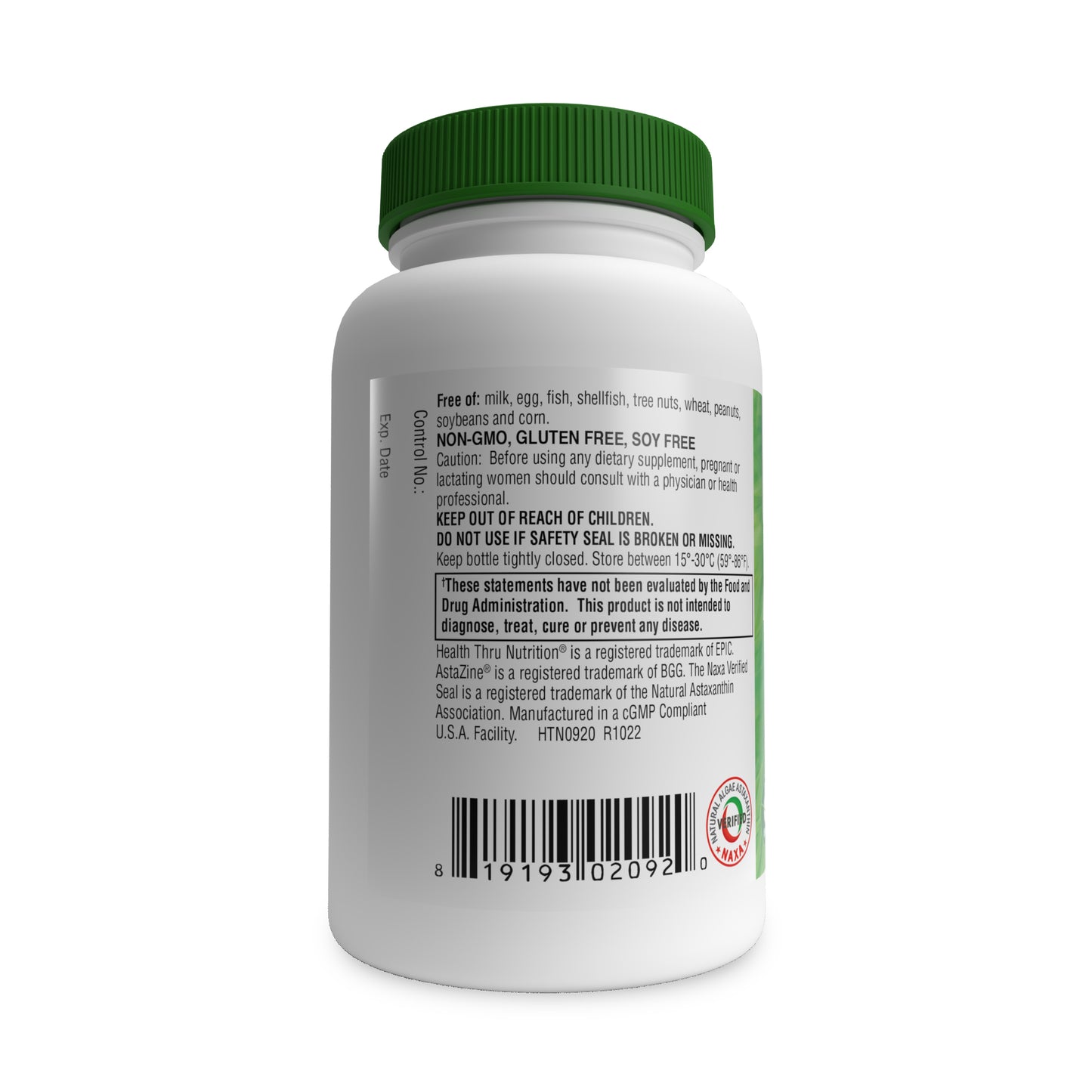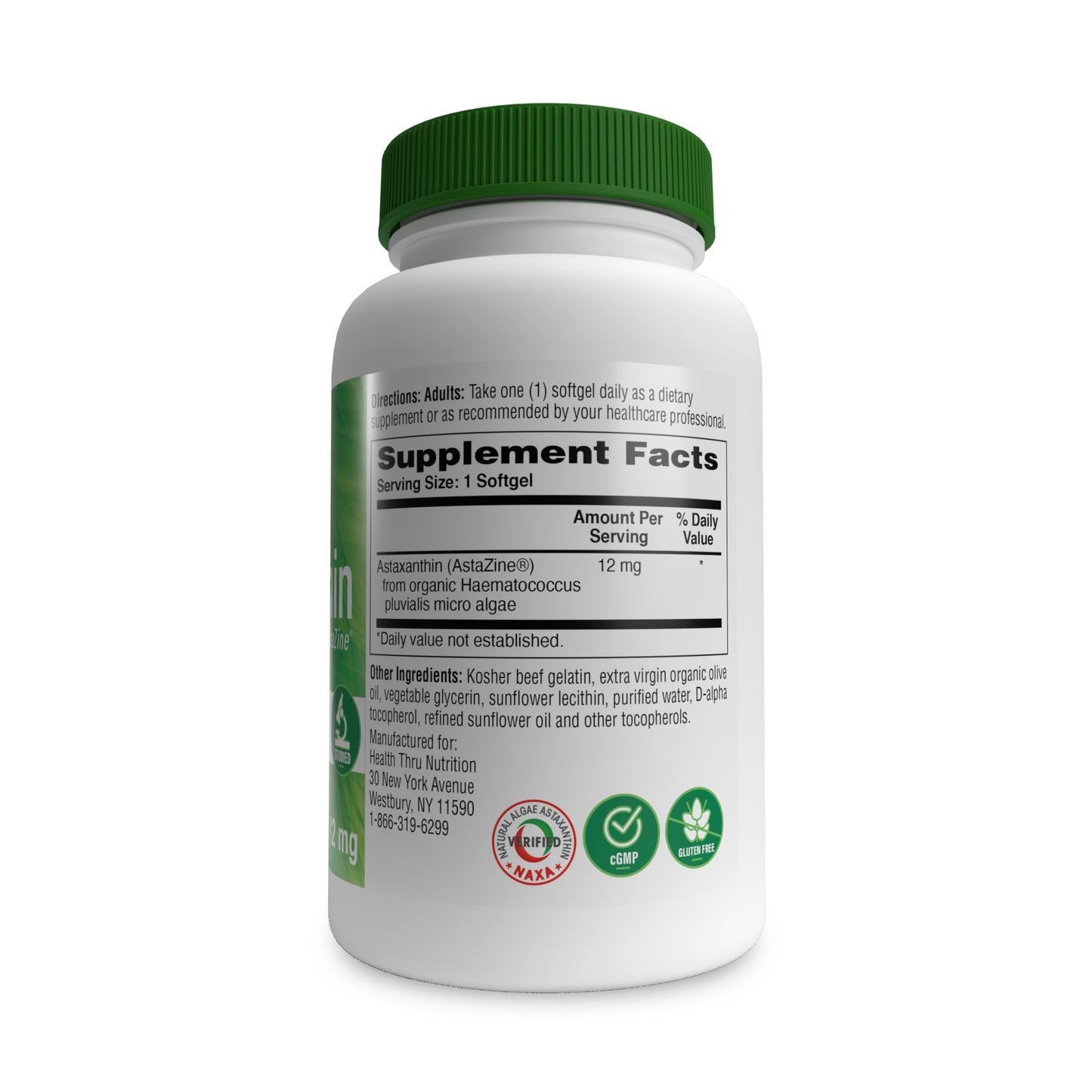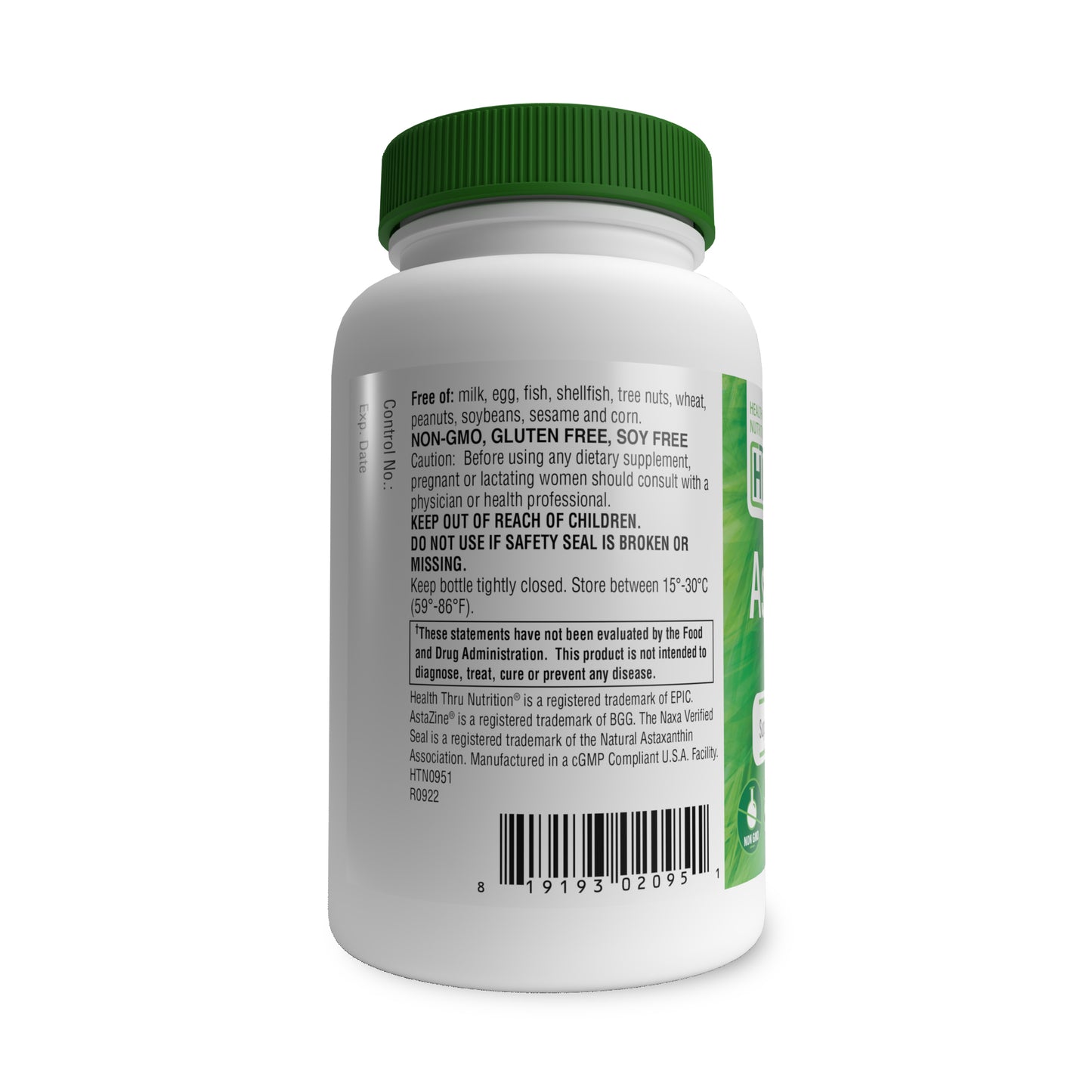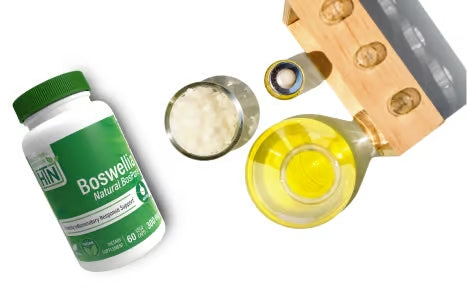 Our Philosophy
Health Thru Nutrition (HTN) began developing nutritional supplements several decades ago with a simple mission: to Empower People to Live Healthier, More Informed Lives. We strive to meet this mission every day by providing clinically validated and superior quality nutrition products, while serving as a trusted source of nutrition information. Our core values of Safety, Integrity, Transparency, and Quality along with our innovative staff of clinicians, pharmacists, and industry leaders help guide us in providing the most effective health-span solutions for our customers.