Regular price
Sale price
$17.56
Unit price
per
Sale
Sold out
• Clinically Proven BosPure® Boswellia 75% Boswellic Acids
• Vegan certified, Non-GMO and Hypoallergenic
• Helps support joint health and mobility
Health Thru Nutrition's Boswellia 300mg vegecaps are a premium dietary supplement that contains a standardized extract of Boswellia serrata, known as BosPure®. This natural ingredient has been used for centuries in Ayurvedic medicine for its anti-inflammatory and pain-related properties. Health Thru Nutrition's Boswellia supplement is made from pure and high-quality ingredients, without the use of any fillers or additives.
How to Use?

Directions: Adults: Take one (1) VegeCap daily as a dietary supplement or as recommended by your healthcare professional.
More Info

Our BosPure® Boswellia is a gum resin produced from the boswellia serrate plant, also known as Indian Frankincense. The herb has been used for thousands of years in traditional Ayurveda.

Bospure® is standardized to 75% total organic acids along with 3 specific boswellic acids:(AKBA)Acetyl-11-Keto-Boswellic Acid (10%), Acetyl-alpha-Boswellic Acid and Acetyl-beta-Boswellic Acid. Best of all, this potent, Non-GMO, product is made in the USA in our certified cGMP Facility.What are Acetyl-group Boswellic Acids? AKBA, along with the other acetyl-group Boswellic Acids are the active compounds in BosPure® that inhibit the inflammatory pathway 5-LOX. Inhibiting this pathway prevents the breakdown of joints by leukotrienes which are associated with inflammation.

Other extracts only contain 1-2% of these potent compounds. BosPure® contains NO beta-boswellic acid which is also present in other extracts up to 30% and has been shown to be pro-inflammatory. Conventional boswellia may only provide temporarily relief while BosPure®'s effect is long-lasting. Why BosPure® Boswellia? As with for all of our products, we choose highest quality, purity, and clinically proven materials to ensure efficacy, safety, and best value for our customers.
Supplement Facts

Other Ingredients:

Hypromellose, plant cellulose, L-Leucine and rice concentrate.
Shipping

Free Standard Shipping Everyday on Orders over $59!
View full details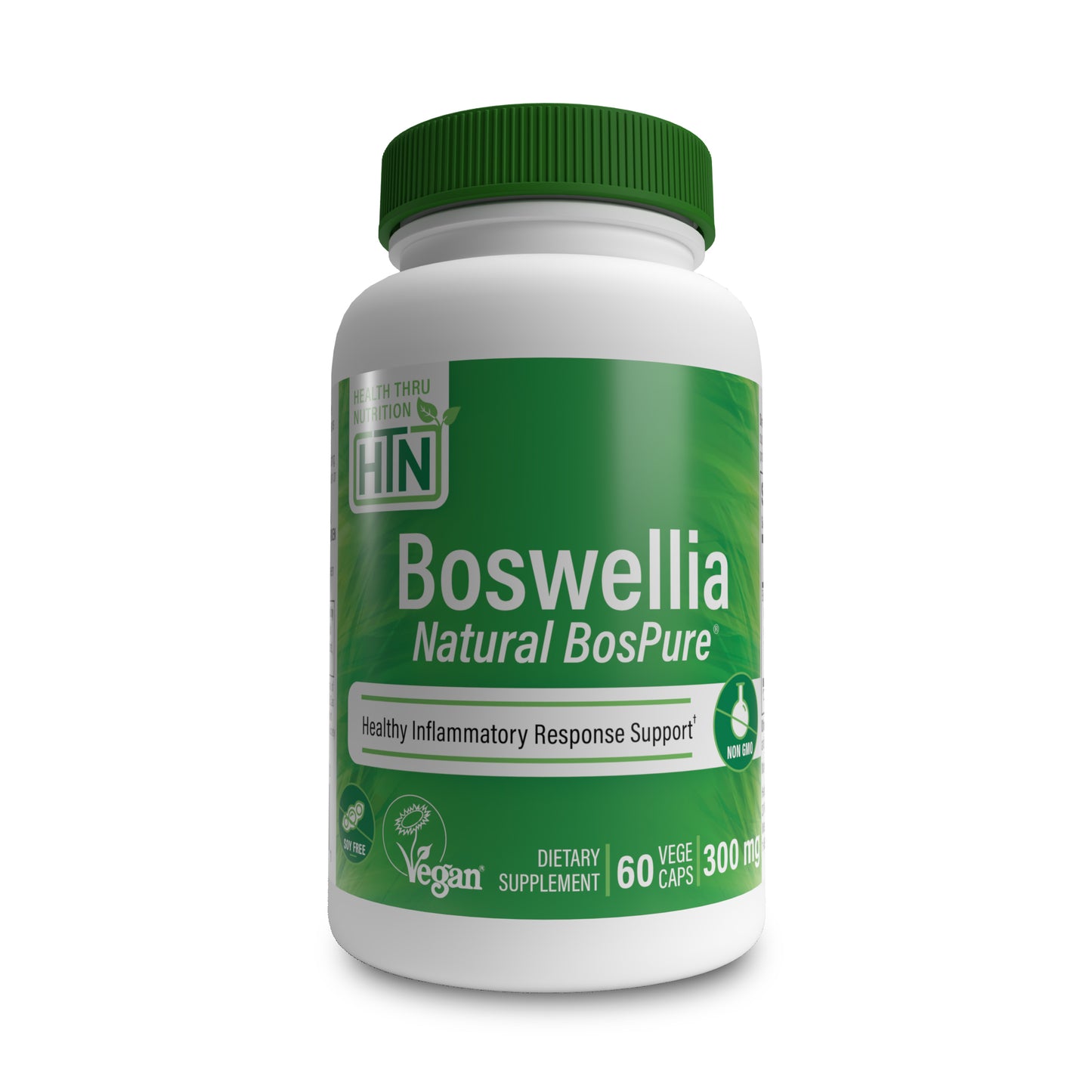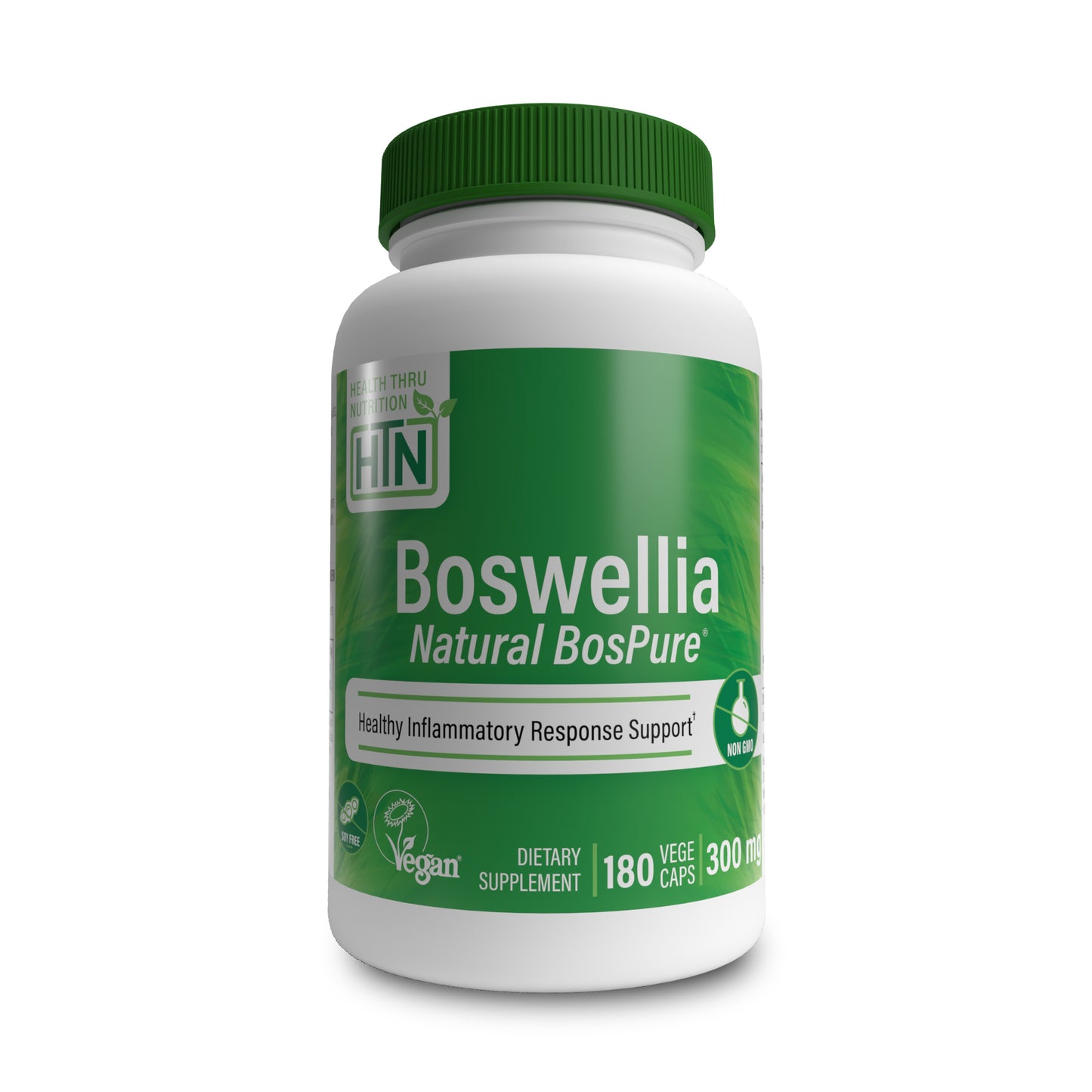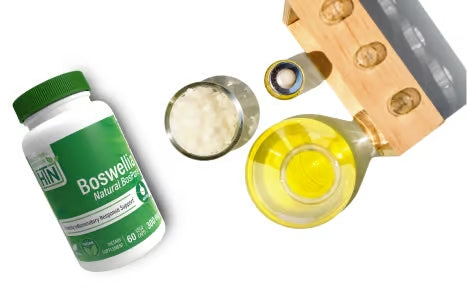 Our Philosophy
Health Thru Nutrition (HTN) began developing nutritional supplements several decades ago with a simple mission: to Empower People to Live Healthier, More Informed Lives. We strive to meet this mission every day by providing clinically validated and superior quality nutrition products, while serving as a trusted source of nutrition information. Our core values of Safety, Integrity, Transparency, and Quality along with our innovative staff of clinicians, pharmacists, and industry leaders help guide us in providing the most effective health-span solutions for our customers.