Regular price
Sale price
$34.95
Unit price
per
Sale
Sold out
• World's First Capsanthin Supplement
• Winner of the 2021 Best of Supplements Award
• Dry Eye support, IOP, Eye Fatigue and Blue light protection
Introducing the World's First Capsanthin ocular health supplement from HTN, designed to combat the adverse effects of blue-light exposure caused by excessive screen time and reduce dry eye symptoms. Clinically proven to reduce eye fatigue, improve macular pigment ocular density (MPOD), support healthy intra ocular pressure (IOP), and alleviate dry eye symptoms, this one-of-a-kind nutrient is exclusively available from HTN. Protect your eyes and improve their health with the HTN Capsanthin supplement.
How to Use?

Directions: Adults: Take one (1) softgel daily, as a dietary supplement or as recommended by your healthcare professional.
More Info

World's First Capsanthin - HTN is the first company in the world to make this powerful nutrient commercially available to the consumers across the globe.

Capsanthin, derived from Capsicum annuum (or chili pepper), is a bioactive carotenoid that delivers a more holistic range of benefits than other eye health solutions by addressing both short- and long-term eye health.

We live in a time when digital screens take a lot of our time and attention throughout the day. Despite the benefits of current technology, these digital screens also pose a health risk because of the excessive exposure to blue light and long-term effects on nerve damage. With a steady increase of baby boomers, the rise of video gamers, and increased digital use, eye health is top-of-mind among consumers. Our CapsiClear™ capsanthin extract is the only patent pending, clinically studied nutrient that provides a holistic eye health solution for all ages by supporting optimum macular pigment optical density, eye fatigue, intraocular pressure, and blue light protection.*

Recent research has discovered that Capsanthin is able to increase macular pigment optical density (MPOD) to deliver protection from blue light.* It takes eye health one step further and also helps to maintain intraocular pressure (IOP) at optimal levels to lower the risk of future eye damage as well as helping to protect against eye fatigue.* No other nutrient has been discovered to deliver this powerful combination of benefits.

Clinical studies have shown that CapsiClear™ Capsanthin is able to deliver significant increases in MPOD for better blue light protection and photostress recovery, resulting in a lower risk of experiencing eye fatigue, and other symptoms of Computer Vision Syndrome.* With daily digital screen time averaging at least 12 hours per day, there is a need for a powerful defense against the damage that may result from the eventual eye strain that occurs. [1]

Supported by Science

A 12-week human clinical study at the University of North Texas showed that 40mg of CapsiClear™ provided significant support for increased MPOD that positively influenced photostress recovery and blue light resistance. *Photostress recovery is a measure of how long it takes for visual acuity to be restored after the retina is overloaded with bright light (as if from the sun or digital screens). Blue light protection was also tested by giving subjects a random passage of words to read as quickly as possible to measure visual acuity. Subjects consuming CapsiClear™ experienced much faster photostress recovery times than those with the placebo. Additionally, reading times under blue light by those consuming CapsiClear™ outperformed the placebo group by a large margin. *These results display significant improvements to vision performance through the supplementation with capsanthin. [2]

CapsiClear™ is the first natural ingredient to be studied for its effects on IOP. In a 28 day animal trial, after only 8 days of CapsiClear™ consumption, the animals induced with high intraocular pressure levels were showing signs of reduction in intraocular pressure. *By the end of the experiment, the IOP had returned to a level almost equal to the control group. [3]

A recent study revealed that, after supplementation, significant levels of capsanthin were found present within ocular plasma and macula samples. Capsanthin within the plasma was also found to be significantly higher than within the macula. This shows that CapsiClear™ supplementation results in clear and lingering benefits to the ocular system.

Sustainable Choice

Health Thru Nutrition and Unibar are dedicated to manufacturing sustainable products that are as kind to the earth as they are to the human body. By working with reliable and responsible farmers that share our values, we can provide our customers with high-quality, sustainable CapsiClear™ Capsanthin.

*These statements have not been evaluated by the Food and Drug Administration.

This product is not intended to diagnose, treat, cure, or prevent any disease.

Reference

---

1. https://www.forbes.com/sites/nicolefisher/2019/01/24/how-much-time-americans-spend-in-front-of-screens-will-terrify-you/?sh=4b35ff011c67

2. Determining the Effect of 12-weeks of Oral Capsanthin Supplementation on Body Weight,


Lipid Profile, Liver Health, and Eye/Macular Health in Overweight Subjects. Study conducted

by Dr. Brian et al at University of North Texas and sponsored by Unibar Corporation, USA

3. CapsiClear (Capsanthin 50%) for lowering of Carbomer Induced Intra Ocular Pressure in

Sprague Dawley Rats. Study conducted at Vipragen Biosciences Pvt Ltd, Karnataka, India.

Protocol No. VBPL-P023/19 and study sponsored by Unibar Corporation, USA.

Supplement Facts

Other Ingredients:

Flax seed oil, kosher beef gelatin, vegetable glycerin, purified water, annatto suspension in sunflower oil.

Shipping

Subscribe today and get Free Shipping on every delivery!

View full details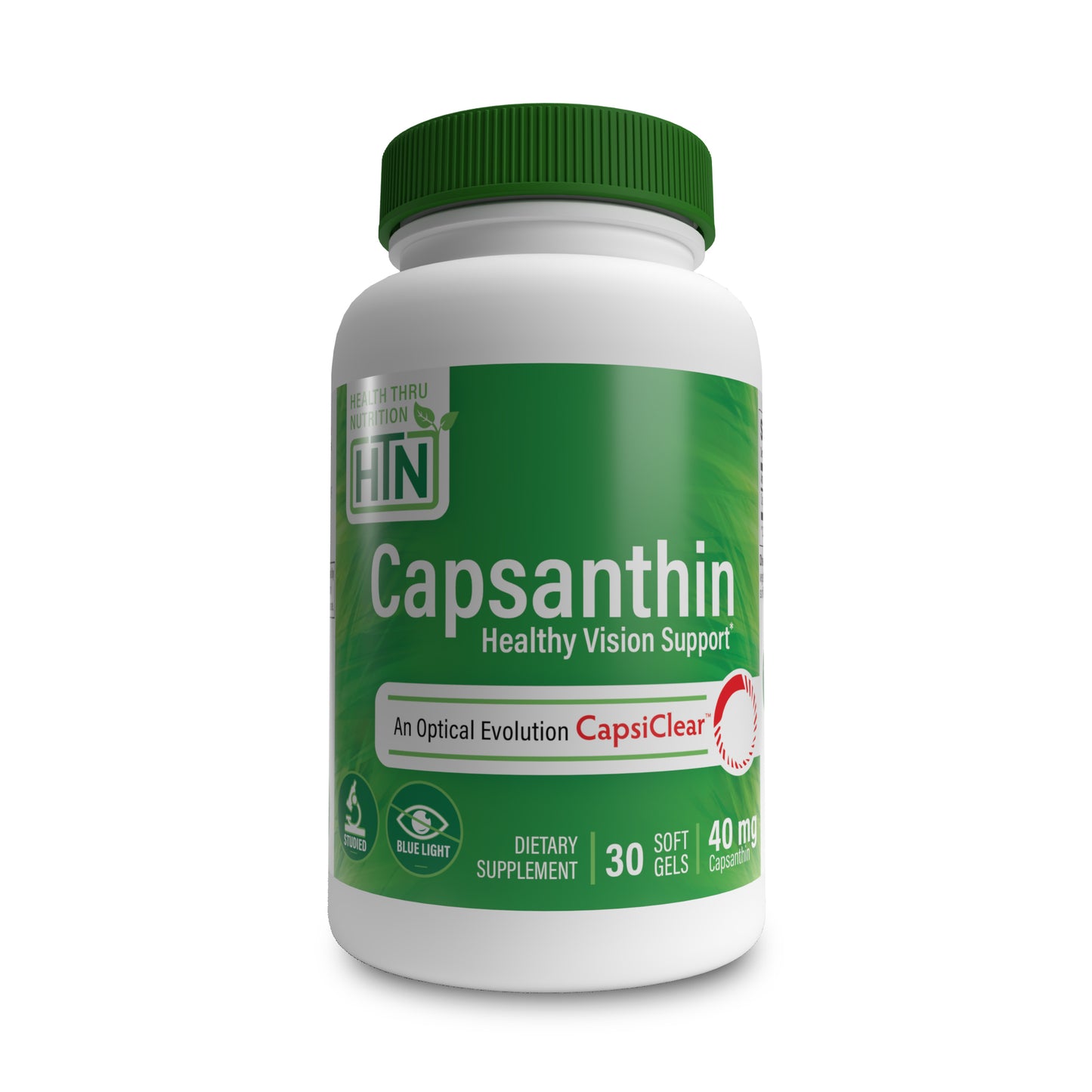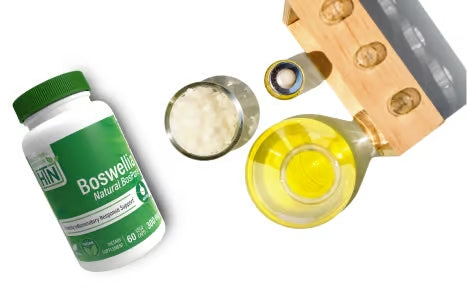 Our Philosophy
Health Thru Nutrition (HTN) began developing nutritional supplements several decades ago with a simple mission: to Empower People to Live Healthier, More Informed Lives. We strive to meet this mission every day by providing clinically validated and superior quality nutrition products, while serving as a trusted source of nutrition information. Our core values of Safety, Integrity, Transparency, and Quality along with our innovative staff of clinicians, pharmacists, and industry leaders help guide us in providing the most effective health-span solutions for our customers.
Choosing a selection results in a full page refresh.
Opens in a new window.