Regular price
Sale price
$14.36
Unit price
per
Sale
Sold out
• Vegan certified, Fermented and Non-GMO
• Maintains Overall Cellular Health 
•  Support Healthy Lung & Liver Functions
Health Thru Nutrition N-acetyl Cysteine (NAC) 600mg Fermented and Vegan Certified is a high-quality dietary supplement that provides the body with powerful antioxidant support. As a Glutathione precursor, NAC helps to maintain cellular health and supports the body's natural detoxification processes. It is also known for its ability to fight cell-damaging free radicals, which can contribute to premature aging of cells.
How to Use?

Directions: Adults: Take one (1) VegeCap daily as a dietary supplement or as recommended by your healthcare professional.
More Info

This is the purest, most powerful Non GMO formulation of 600mg NAC (N-acetyl Cysteine) available.

First, it is manufactured in our certified cGMP U.S.A. facilities.

Second, it is guaranteed to be both Gluten and GMO Free and comes in a vegetarian friendly, easy-to-swallow VegeCap. But as reassuring as it is to know these facts, what just one 600mg NAC VegeCap per day can do to help maintain your health is what is really important!

• Free Radical Protection

• Glutathione Precursor

• Support Healthy Lung & Liver Functions

• Maintains Overall Cellular Health

N-acetyl Cysteine (or NAC) is the stable form of the amino acid L-Cysteine. As a Glutathione precursor, NAC helps the body maintain cellular health. It's NAC's antioxidant properties that may help fight cell-damaging free radicals. Oxidative stress caused by these cell-damaging free radicals may contribute to premature aging of cells.
Supplement Facts

Other Ingredients:

Hypromellose, plant cellulose, rice concentrate and L-Leucine.
Shipping

Free Standard Shipping Everyday on Orders over $59!
View full details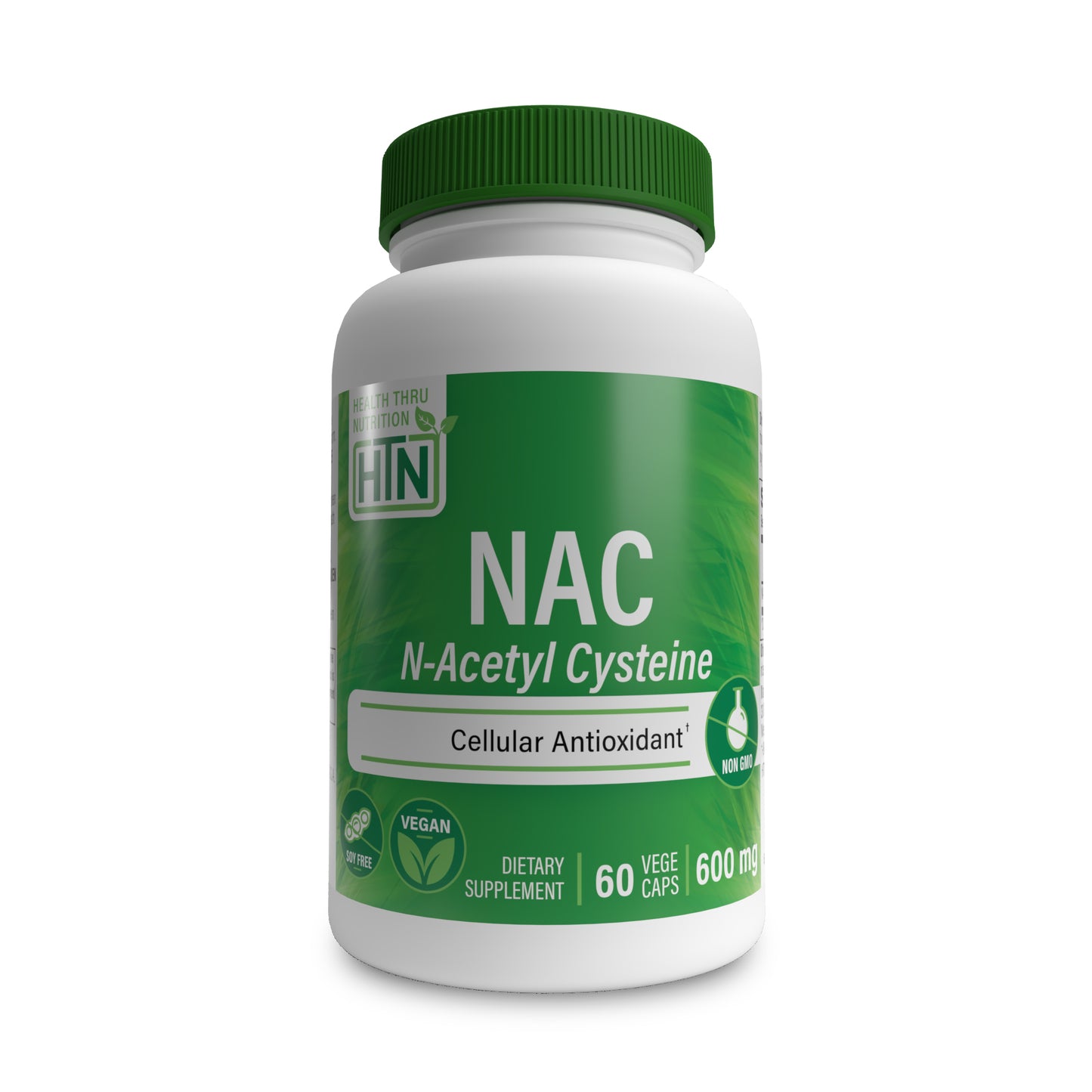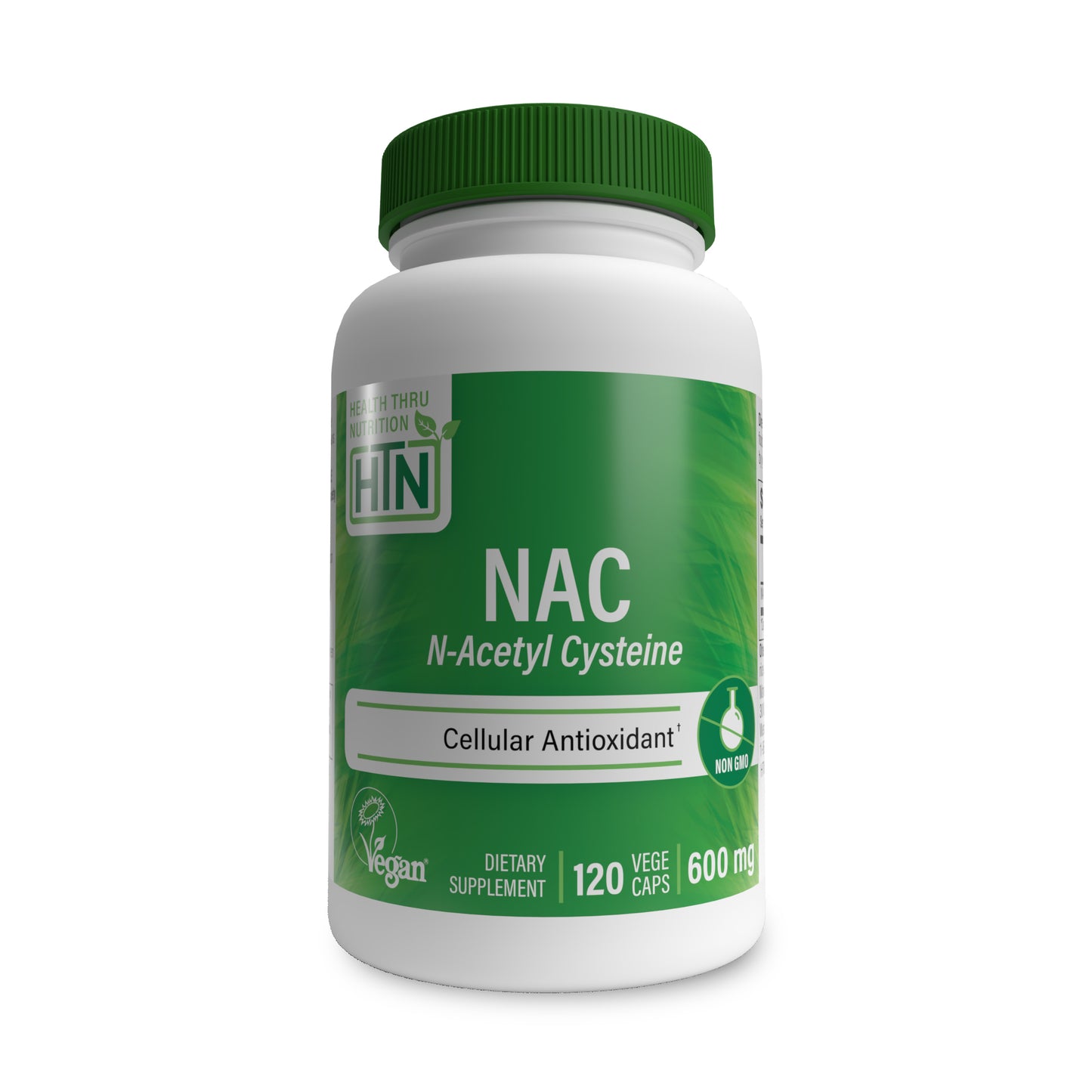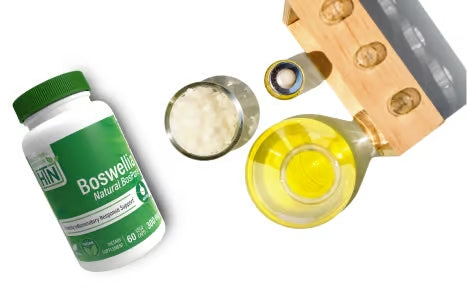 Our Philosophy
Health Thru Nutrition (HTN) began developing nutritional supplements several decades ago with a simple mission: to Empower People to Live Healthier, More Informed Lives. We strive to meet this mission every day by providing clinically validated and superior quality nutrition products, while serving as a trusted source of nutrition information. Our core values of Safety, Integrity, Transparency, and Quality along with our innovative staff of clinicians, pharmacists, and industry leaders help guide us in providing the most effective health-span solutions for our customers.