Regular price
Sale price
$23.99
Unit price
per
Sale
Sold out
• Supports Ovarian Health
• 40:1 Myo to D-Chiro Inositol Blend
• Certified Vegan & Non-GMO Formula
OVARIS Ovarian Health Complex is a premium supplement for women designed to support healthy ovary function. Each serving contains a complex of 2,000mg Myo-Inositol and 50mg D-Chiro-Inositol in a 40:1 ratio, carefully formulated to promote optimal ovarian health. Our product is proudly Certified Vegan by The Vegan Society, is non-GMO and made in the US cGMP Certified facility.  Prioritize your well-being with OVARIS, a natural choice for supporting your ovarian health.

How to Use?

Directions: Adults: Take four (4) VegeCaps daily as a dietary supplement or as recommended by your healthcare professional.
More Info

Introducing our revolutionary product - OVARIS Ovarian Health Complex - a premium supplement specially formulated to provide natural support for ovarian and hormonal health, as well as immune function. Each serving contains a powerful blend of Myo-Inositol and D-Chiro-Inositol in a precise 40:1 ratio scientifically crafted to support healthy ovary function, ovulation, fertility, and menstrual cycle. Our formula is thoughtfully designed to support PCOS, with a focus on maintaining hormonal balance and overall well-being. As with all of our products, Intentionally Superior means that product is not only effective, but also clean label, 3rd party tested, Certified Vegan by The Vegan Society, non-GMO and made in the US at a cGMP Certified facility by NSF and NPA, ensuring quality with globally and domestically sourced components. Make OVARIS part of your daily ritual and prioritize your health ethically with a cutting-edge supplement.
Supplement Facts

Other Ingredients:

Microcrystalline Cellulose, Hypromellose, L-leucine and silicon dioxide.
Shipping

Free Standard Shipping Everyday on Orders over $59!
View full details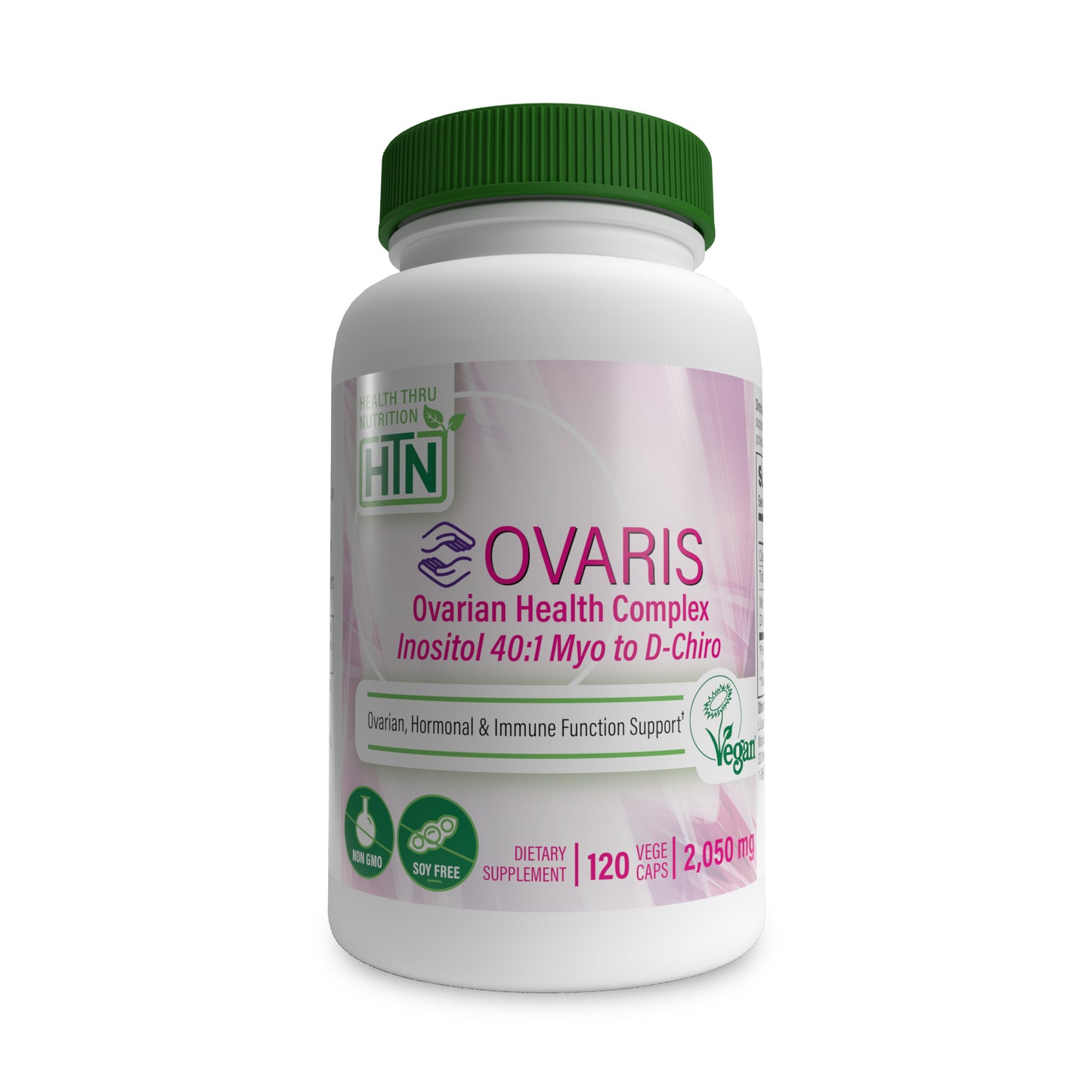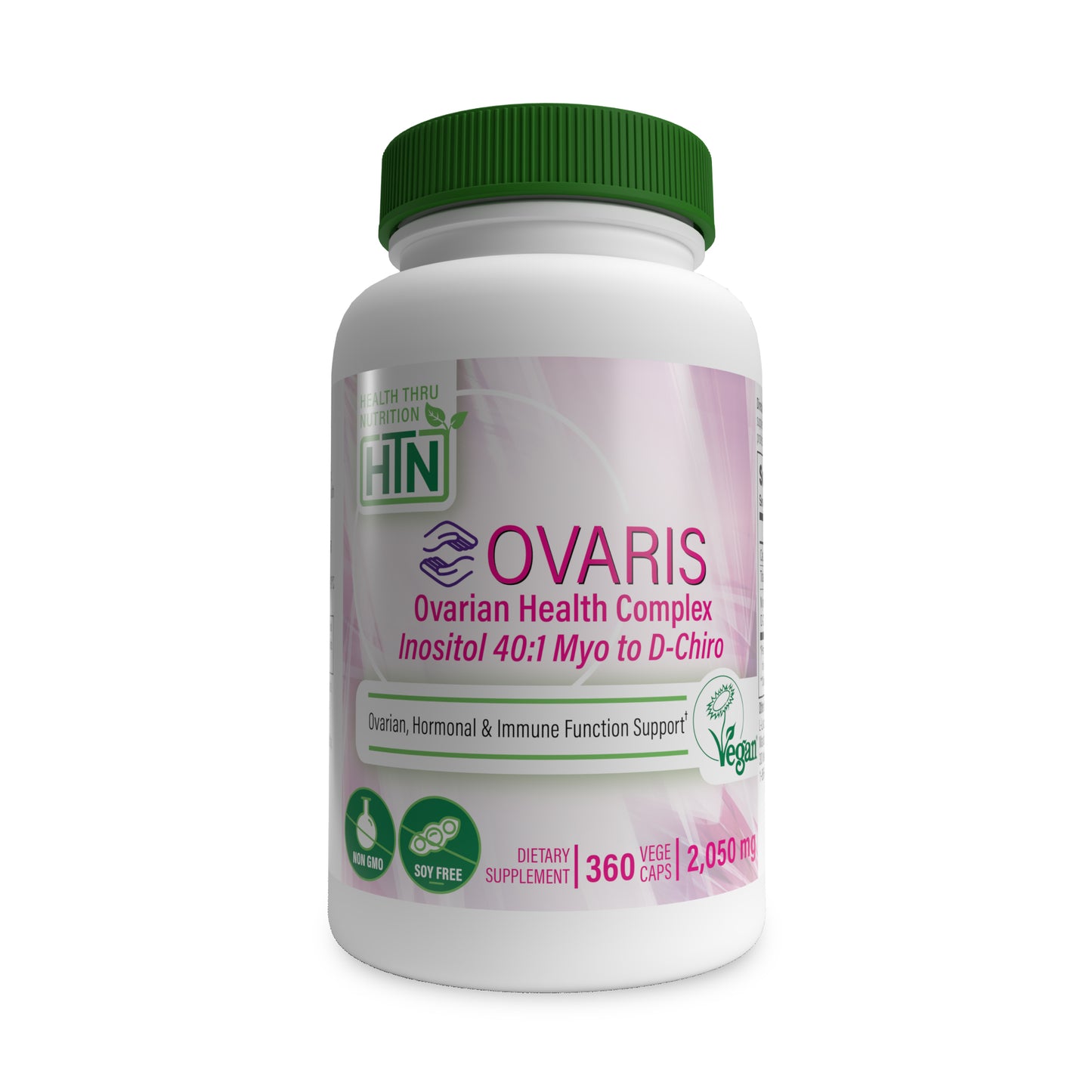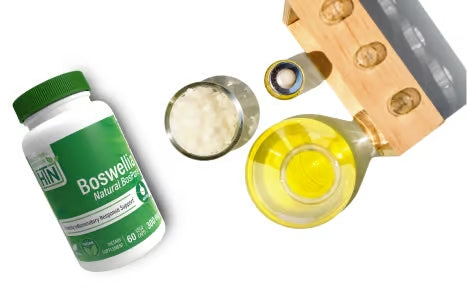 Our Philosophy
Health Thru Nutrition (HTN) began developing nutritional supplements several decades ago with a simple mission: to Empower People to Live Healthier, More Informed Lives. We strive to meet this mission every day by providing clinically validated and superior quality nutrition products, while serving as a trusted source of nutrition information. Our core values of Safety, Integrity, Transparency, and Quality along with our innovative staff of clinicians, pharmacists, and industry leaders help guide us in providing the most effective health-span solutions for our customers.